Sicilian Capers in Sea Salt

The caper or Capparis spinosa, belongs to the family of Capparidaceae composed of 120 species. The arid sun and dryness of the Mediterranean found on Sicily (Isole Eolie), Pantelleria island in the Maltese archipelago, and the east coast of Spain, France and Morocco, have provided ideal conditions for the caper since ancient times.

The buds are hand-picked according to an ancestral ritual between April and July, while the fruit, or caperberries, cucunci, are harvested between the first of May and mid-August. The quality of the crop depends on the intensity of sunlight as well as delicate work - each bud is harvested carefully by hand (to preserve both the bud and the plant), cleaned, and calibrated, and then aged for 30-45 days in sea salt to reach its characteristic unique and enjoyable color and flavor.

Predominantly used in southern cooking, capers are sold in many forms as a condiment (in brine, salt, or in wine.) They lend their slight acridity as a condiment to salads, pizzas, and tapenades, as well as to mayonnaise and tartar sauces, which complement fish.

A typical dish: a salad of tomatoes, a few olives, onions, old hard bread, a drizzle of olive oil plus capers.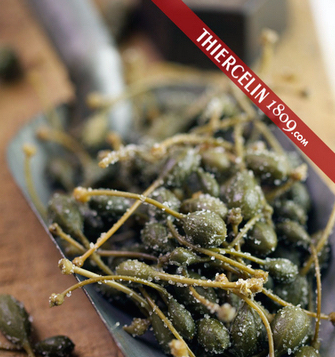 Kalamata Olives PDO, Greek traditional style

The Kalamata olive variety from the Greek southern Peloponnesus enjoys an excellent reputation among table olives. Once ripe, the elongated fruits turn deep black (due to their high oil content), their skin thin and elastic and their flesh firm. After soaking in water to remove any bitterness, the olives are pickled "Greek traditional style" in water, sea-salt, red wine vinegar, and extra virgin olive oil. The pits can easily be removed.

Can be served as an appetizer together with a glass of dry sherry.


Green Olives, Greek traditional style

These premium olives are hand-picked and preserved without any chemicals according to traditional recipe (see above). Firm texture with full flavor. Ideal as a fresh snack at parties or in Mediterranean salads, appetizers and sauces. Perfect for martinis!

Also available in stuffed versions, with paprika or sun-dried tomato.