Crystallized Flowers

In southwestern France around Toulouse, the confisserie of flowers, especially violets and mimosa, is as old as the confisserie of fruit. In the middle ages, these early candies were used to decorate sweetmeats; today they bring color to your desserts or petits fours and can be nibbled on their own. An ideal gift for gourmands who appreciate both novelty and history. 100% natural.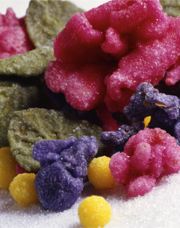 Dried Flowers

The use of flowers in the kitchen can be traced back to Roman, as well as Chinese, Middle Eastern and Indian cultures. The edible flowers were especially popular in England during the reign of Queen Victoria. Today's chefs use flowers to enhance food's elegance in a simple manner, respecting the product natural subtlety. We offer dried roses and rose petals, hibiscus, and exciting new orange flower. 100% natural.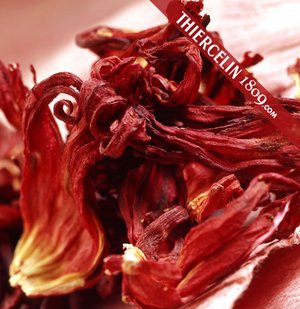 Wild Hibiscus Flowers for Champagne
From Down Under comes a new, exciting and sensual concept for apertifs and cocktails.
How it works: Remove one hibiscus flower from the hibiscus syrup; place flower into a champagne flute, petals facing up; and - depending on the freshness of the champagne - the flower will open into full bloom. A couple of drops of syrup adds a subtle pink shimmer to each glass. The flower is edible and has a raspberry-rhubarb flavor.
Wild Hibiscus flowers can be used to create
a wide range of exciting, high-value
cocktails
. A mixer guide is included on top of every jar.
The wild hibiscus,
Hibiscus sabdariffa
, has grown for centuries among the foothills of the Australian tropical rainforest. Related to the wild rosella commonly used in confitures. 100% natural and organic.
Available in 11-flower (retail) and 50-flower (gastro) jars.
Also many amazing culinary recipes have been developed with the hibiscus flower, including
champagne jellies, barbeque glazes, pavlova and cheesecake
.